"The twenty first century will be anything but business as usual."
David White, The Heart Aroused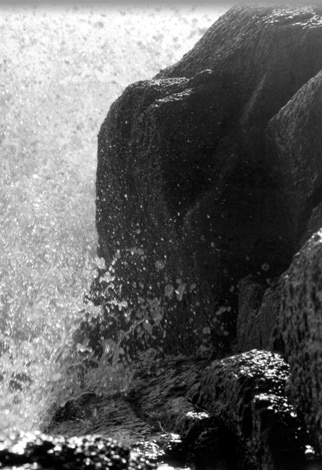 And Then God Speaks ~ Job 38:1 ~ © Kim Daus Photography

Books & Publications
Force of the Spirit is a photography book that draws people into scripture through black and white imagery. It is 10" x 11" hardbound. ISBN# 0-9678541-4-8, published by Indaba Publishing in November, 2005.
This collection of images is a chronicle, a storybook. It shows what I have seen, where I have been, people I've met along the way. Through these photographs I share feelings, reflections, and growth. In many ways, this collection represents a surrender to the idea of the holy through the medium of photography.
You might say this photographic canon is also a testament to theology, or my relationship to God. It's how I see the world. Reverence, faith, gratitude. Praise, mystery, wilderness wandering. Worship, sacrifice, covenant, brokenness. Darkness. Confession. Grace, hope, love. Unbelievable joy. The movement of these themes in my life is never still.
I'd also like to hope that these images are an inspiration, a call, an invitation to answer the force of the spirit in life, love, work, and art. The way we see things and how we respond to our world are our way to listen and allow the spirit to speak truth.
My life is a world of merged disciplines that support each other. My expressions might seem quite different at first blush, but they are integrated and support and challenge each other. I worship when I take pictures. When I preach, I use images and word pictures. Work is about praise for me.
I take pictures of both ordinary and extraordinary subjects. Some moments are quiet, common, everyday images. Some are once-in-a-lifetime gifts. I like high contrast, detailed texture, appropriate complexity, images pulsing with passion, and sublime expressions. I seek images that reflect me as much as they reflect the subject.
You might say my style is in-your-face details. Superlatives. Tightly cropped faces, whether those of buildings or people. An image that makes you ask questions, or finds a grin stealing across your face. An image that makes you say a great big "yes!" to it all. My images are never staged, and always use natural light and capture spontaneous moments. Like unexposed film, I rarely have a preconceived notion of what the photo should be, though you won't find many sweeping panoramics on my contact sheets.
A photograph is like a prayer, or perhaps photographs are actually portraits of prayer. A picture is a way to connect with the sacred--sometimes ordinarily so--things of life. A photo allows me to discover and establish values and honor important moments and insights. It does not let me pass through life unaware. A photograph helps me uncover layers of my spirit so that I can grow closer to God. The best of my images penetrate with an untiring quest for, or brush with, truth.
Art and the spiritual are inseparable for me. Art to me is about more than sharing in God's sacred act of creation. My imagery speaks to the force of the spirit--the fact that even though you may turn away from it, the spirit's power will nevertheless emerge. This collection is about tenacious spirit, and an unquenchable thirst to learn and know truth. These photographs reveal a rich faithfulness, and an intuitiveness from details and nuances that tell the greater story of which we play a part.
This photographic book project includes 122 images and writings. You can also learn more about the book and order it here: http://forceofthespirit.com/
From Glory to Glory
A second installment of the photographic canon found in Force of the Spirit. This second edition will be out soon! To get a sneak preview, click here.
Customer.Community
Just as her first book, Beyond Spin, looks internally at companies and explores fresh ways to communicate authentically with employees, Customer.Community takes a similar posture and focuses outward on fostering natural, honest communication between and among customers in a way the drives the business forward. Customer.Community is an innovative look at how a business can use virtual communities to engender customer loyalty, advocacy, and a whole lot more. Instead of wrestling with how to "monetize" community, Customer.Community shows how to "communitize" commerce by creating peer-to-peer relationships between customers, and leveraging that for business success.

Customer.Community, published by Jossey-Bass/Wiley in March 2002.
Beyond Spin
In Beyond Spin, you will discover a new strategic brand of corporate communication that cuts through the Dilbertesque cynicism to engage a workforce, manage constant change, and align an organization. Beyond Spin presents the concept of "strategic corporate journalism" as a way to communicate authentically, quickly, and fluidly in a way that engenders trust among employees and matches business objectives. The book showcases dozens of working models and examples of "reporting on yourself" in ways that help companies better meet business objectives. In both Beyond Spin and Customer.Community, you'll see similar themes: how communicating openly, honestly, and without attempting to control every word actually inspires the loyalty of people-whether they are employees or customers.
Beyond Spin, The Power of Strategic Corporate Journalism, published by Jossey-Bass/Simon Schuster in October, 1999.
Papers / Sermons
Visual Exegesis
We worship an invisible God, and yet as followers of Christ, we spend our whole lives in relationship with Him, reaching for Him. Worship, faith, prayer, and spiritual disciplines can all magnify or enrich our relationship with this God we can't see.
As I walk out my faith day by day, I weave in and out of themes. One theme in my current tapestry is that of mystery and paradox and ambiguity in my many layered relationship with God. I am learning that I can't box God up, any more than I can systematize the Word He gives us. We can try and try, but in the end, the more we wrestle with the paradox part of our faith through spiritual disciplines, the more God smiles on us. In the midst of and facing great mysteries, I still choose to walk forward seeking Him. This is my major theme right now, and the spiritual disciplines are a way to fold into these themes.
In conjunction with prayer, Scripture and spiritual reading, journaling (my current disciplines), I have been experimenting with visual exegesis (a phrase I coined in July, 2000) as a way to use imagery to help express these complex ideas and mysteries and beliefs where sometimes words limit or polarize us. In this paper, I will explain visual exegesis and how God is using it in my life.
"The Word is layered and cyclical and soul-filled in a way that validates our lives through the lens of the human drama." Madeleine L'Engle 1
The Theologian and The Photographer Speak
I'm a collector of images and stories. I have been a black and white photographer for fifteen years, and a storyteller since I was a little girl. I believe God speaks to me through images and stories, and that he is also using stories and pictures to speak through me-to tell others about God.
As both the theologian and the photographer side of me have been in dialogue over the past ten years or so, I have begun to experiment with what I call "visual exegesis," a process using pictures to see and know God and to understand more about the paradox inherent in this thing we call faith. Like using different translations, visual exegesis helps to see Scripture in new ways. I believe it helps us become more intimate with the questions, and to see fresh nuances and insights by visualizing messages in Scripture.
There is a caution against trying to see God too literally. And in fact, there is a caution against "God manufacture." 2 Definitely, in our limited humanness, we can not create a God in our graven images (or even in our own image) that comes close to the majesty, power and beauty that the real thing offers. Yet, I wonder: How can we use what we have been given by God to make sense of that same God when we can not see him? Is it God manufacture to create poetry, art, or writings that bring people (or only ourselves) closer to God? Quite the contrary, when we do, I believe God nods approval at us.
As a photographer, writer, and public speaker, I have said for years that my job is to get out of the way and let God speak through me. While I still believe that, I am also wondering whether I'm missing something. I wonder whether God has given me certain gifts so that I can make sense of God and his ways precisely because of my experiences and what I have been given. Of course, I need to get my ego, self needs, and shadows out of the way so they don't poison the work, but as a communicator and artist, if my unique perception gets out of the way too much, I become yet another watered down Christian testimony that speaks to no one. I do not want to manufacture my own God by any means, but I do want to show my path and insight in approaching Him. I want to invite others to see what I see, learn what I've learned, and to know God and me a little bit more. My prayer is that my process of creation (manufacture?) brings me more in more intimate relationship with God, and if God desires, others can also come closer through my work. For me, this is approaching God's mystery with wonder, humility, and awe.
God made me in his image, and to create in his image. As long as I stay true to his Word and subordinate to Him, I believe that the work I manufacture will be pleasing to him. I realize the danger-that I would begin to manufacture my own God, and to say what I want to say. My solution to is engage in Scripture, a community of accountability, rigorous prayer time, educational and spiritual disciplines, and to surrender to the work of the Holy Spirit.
"Religion and art stand beside each other like two friendly souls whose inner relationship, if they suspect it, is still unknown to them." 3 Friedrich Schleiermacher
The Theology of Imagery
I lean upon a rich history in which people have used imagery as way to see the sacred or to see God, and to connect with God's story. The lineage of religious iconography in Eastern and Russian Orthodox churches that began in the 8th century shows one way. Icons played an important part in the liturgy of these churches because they were said to reflect the light of God.
In the 13th century, St. Bonaventure experimented with paintings and stained glass work as a spiritual discipline and a way to know God. He said, "All the arts and sciences are found to have points of contact in Scripture," and he looked at the arts as parables or stories that reflected the heavenly process.
Michelangelo's Sistine Chapel, other great religious paintings and sculptures, iconography, and even Jesus' parables-these all represent imagery and symbols that were part of a visual language of earlier ages that are not as common in our visual vocabulary. In exploring visual exegesis, I am experimenting with an old vocabulary in new ways. Visual exegesis, therefore, and my leaning on black and white imagery, is a way to continue the tradition of connecting into God's story visually-his story of choosing us, pursuing us, and holding fast to us century after century.
"Rembrandt's embrace remained imprinted on my soul. I would watch spellbound for hours." 4 Henri Nouwen, The Return of the Prodigal Son
To me, creating art or images is partially about sharing in God's sacred act of creation. In fact, art and the spiritual are inseparable for me-I believe that a picture is like a prayer. So as a theologian exegeting with photos, I have some mentors from which I can learn. "In the very ability to make images there is a religious component. Powerful life can speak from a painting or statue, but in an image, it is as though the life were caught fast at a particular moment, as though motion were frozen. 5
Visual Exegesis-The Process
If exegesis is an explanation of a Scriptural text and a way to interpret and draw out its meaning, then visual exegesis is a way to use photography to see another layer of what the text is saying. Imagery helps us use more senses to see Scripture. It is using a new vocabulary, or looking through another lens, literally, to see Scripture in pictures.
Exegesis is like digging for artifacts. You are in conversation with the Greek and Hebrew language, literary resources, lexicons, form and structure, commentators, history, colleagues, and co-disciples about the relics in a passage of Scripture. Just like the scratches of Hebrew and Greek characters on parchment provide a tool to dig deeper, so too, does a photographic visual exegesis encourage us to use more senses to see scripture in different ways. It's as if we are listening for, or smelling, or touching the images in the text. Seeing Scripture in pictures, just like studying Hebrew or Greek, shows things that we might otherwise miss. It can open up the text. Matthew Henry once said, "We cannot see the essence of God, but we see him in seeing by faith his attributes and perfections." 6 Perhaps this is similar to what David was thinking in Psalm 63 when he "beheld God's glory."
Visual Exegesis is powerful as an added exegetical tool-and it is only possible after the rigorous work required to extract meaning from the text in the first place. Following the time-honored exegetical methods and after I have wrestled with a passage and written the sermon or message, then I pray for the Spirit to collaborate with me and choose the images that will tease out more meaning. I ask for illumination to choose images that reinforce or add new depth to a passage. Often it is if the spirit takes over and assembles the images and I get to watch.
A Photographic Canon
I have a photographic canon of over 8,000 images that I have captured from all over the world. I store most of these images on contact sheets. Of these, I have printed roughly 300 8x10 prints. Photos have taken me all my life-I have said for years that I don't take pictures so much as they take me. In this way, the process is similar to prayer, exegesis, and surrendered communication in the Spirit. I see my images as portraits of prayers, and as such, they reflect the light of Christ in my life.
Art is about seeing in new ways. It is about uncovering new layers of my spirit so that I can grow closer to God. My best images penetrate with an untiring quest for truth. They invite seekers to interact with the Bible using a new translation, one that is spiritually acute, yet religion-less. My hope is to allow God to use the images, my life, my joy, and creativity in ways I may not imagine, to further his purposes in the world.
References
1 L'engle, Madeleine, Walking on Water, Northpoint Press, 1980, p 106.
2 Ozick, Cynthia, Preface to The Book of Job, New York, Random House, 1998, p xxiii.
3 Vander Leeum, The Holy in Art--Sacred and Profane Beauty, Holt, Rinehart and Winston, New York, 1963, p 189.
4 Nouwen, Henri, The Return of the Prodigal Son, Image Books, 1994, p 5.
5 The Holy in Art, p 155.
6 The Holy in Art, p 193.
Title: God With Us
Text: Exodus 3:14 "God said to Moses, "I am who I am. This is what you are to say to the Israelites: 'I am has sent me to you.'" (Plus a few echoes in John-John 8:58 "Before Abraham was born, I am!")
Theme Sentence: God reveals himself to us (in history, in our lives) because he is desperate to know us.
Subject: We can know God without seeing God
Intro Have you ever wanted to meet someone so badly that you'd do just about anything?
I love the story of how one of my good friends met and began to date the man she eventually married. Suzzanne was actually engaged to another man, and was working in a hospital in Tucson. Gary met Suzzanne briefly a year or so before and all of the sudden (it seemed to Suzzanne) called her and asked her to lunch. Suzzanne, of course, said no because she was dating another guy. But Gary knew that Suzzanne was the one-they had never even dated-but he was determined to get to know her and win her over. Gary found out where Suzzanne's office was, and one day climbed up the tree outside her second story window in the Tucson Medical Center, and proceeded to throw pebbles at her window-trying to get her attention. It got attention all right...keep in mind here, that Gary was not a high school or college guy...Gary was in his late 30s! There he was, in a tree, throwing pebbles at Suzzanne's office window. This particular day, Suzzanne wasn't even in her office, but the woman in the first story office beneath Suzzanne's office was there. She watched him for a bit, and then popped her head out of the window and said, "Um, may I help you? ..." Gary, pretty confidently just replied, "No thanks, I'm just trying to meet Suzzanne." She found out later, and agreed to lunch, where Gary told her she was the one...they've been married 16 years now.
In La Boheme, there's a great scene when Rudolfo and Mimi fall in love. Of course it can happen in one scene in an opera. Mimi, Rudolfo's next door neighbor in a student community house, comes over to find a light for her candle that has gone out. She drops her key, and as they are fumbling around on the floor in the dark for the key, they find each other's hand. Holding hands, they wait for the moon to rise and illuminate the room. During this time, Rudolfo wants to tell Mimi all about himself. In one of the great arias in the opera, Rudolfo reveals who he is to Mimi - he's a poet, he's a writer, he's a man of imagination. The moon comes up. They are madly in love.
God is that desperate to know us. He's that desperate to tell us about himself. He's so desperate to know us that he's done some pretty dramatic things in history to get our attention, and to make himself known to us.
We're in a season called Advent, which is about preparing for Christ, about experiencing God with us. Today we're going to look at when God was on earth-once as a burning bush and then as a man named Jesus. Two times he was so desperate to know us. In both of these times, he reveals himself to us in mighty ways. And after that, we're going to talk about two things we can do to know God even today.
Section I - What this Meant Then Exodus chapter 3. This is an incredible story-one of my favorites. In this story, God reveals himself to Moses. But what's great too, is that you see how human Moses is. Here's a little backdrop- Moses, remember had a secret heritage, born a Jew but raised in the royal palace as an Egyptian prince. God had heard the cries (groans) for years of the Jewish people who were in slavery and oppressed by the Egyptians. God decides to do something, and he decides to do it with Moses, but Moses doesn't know that quite yet. So one day, Moses goes out to tend the sheep, and listen to what happens.
Exodus 3:1-10. 1 Now Moses was pasturing the flock of Jethro his father-in-law, the priest of Midian; and he led the flock to the west side of the wilderness and came to Horeb, the mountain of God. 2 The angel of the LORD appeared to him in a blazing fire from the midst of a bush; and he looked, and behold, the bush was burning with fire, yet the bush was not consumed. 3 So Moses said, "I must turn aside now and see this marvelous sight, why the bush is not burned up." 4 When the LORD saw that he turned aside to look, God called to him from the midst of the bush and said, "Moses, Moses!" And he said, "Here I am." 5 Then He said, "Do not come near here; remove your sandals from your feet, for the place on which you are standing is holy ground." 6 He said also, "I am the God of your father, the God of Abraham, the God of Isaac, and the God of Jacob." Then Moses hid his face, for he was afraid to look at God. 7 The LORD said, "I have surely seen the affliction of My people who are in Egypt, and have given heed to their cry because of their taskmasters, for I am aware of their sufferings. 8 "So I have come down to deliver them from the power of the Egyptians, and to bring them up from that land to a good and spacious land, to a land flowing with milk and honey, to the place of the Canaanite and the Hittite and the Amorite and the Perizzite and the Hivite and the Jebusite. 9 "Now, behold, the cry of the sons of Israel has come to Me; furthermore, I have seen the oppression with which the Egyptians are oppressing them. 10 "Therefore, come now, and I will send you to Pharaoh, so that you may bring My people, the sons of Israel, out of Egypt."
Here, Moses gets a little weak-kneed. Exodus 3:11-13. 11 But Moses said to God, "Who am I, that I should go to Pharaoh, and that I should bring the sons of Israel out of Egypt?" 12 And He said, "Certainly I will be with you, and this shall be the sign to you that it is I who have sent you: when you have brought the people out of Egypt, you shall worship God at this mountain." 13 Then Moses said to God, "Behold, I am going to the sons of Israel, and I will say to them, 'The God of your fathers has sent me to you.' Now they may say to me, 'What is His name?' What shall I say to them?"
In ancient Hebrew cultures, names are extremely important, and are often meant to give clues about the bearer's personality, character, or fate. Children often were named in anticipation of the role they would have, or for hopes of the family. Often you'll see too, that people who grow or change also get a new name in the Bible, and the name signifies the changed person.
In Egyptian thought, knowing the true name of a person of a god meant that you could understand his true essence-Moses knows that the people want the meaning or significance of God's name. The slaves will want to call on this power that has promised to deliver them from such an awful state.
Just like with Rudolfo telling Mimi who he is, the revelation of your name in Moses' time implies a certain intimacy in relationship between the people and God-in other words, if God says his name, he makes himself available and vulnerable. Let's watch what God does.
Exodus 3:14. 14 God said to Moses, "I AM WHO I AM"; and He said, "Thus you shall say to the sons of Israel, 'I AM has sent me to you.' "
Wait-who's on first? What's up with THAT! It always reminds me of Dr. Seuss. "I do not like green eggs and ham. I do not like them, Sam, I am." What's this, "I am who I am" bit? Can't you picture theologians through the ages sitting around the table talking about that one? Well they HAVE! It's affectionately called the "Great I Am" and people through the ages have translated it differently too:
I am who I am I will be what I will be I am because I am I am the one who is or who always is I am always I am I shall prove to be what I shall prove to be I am the Is-ing One-(you gotta love that one)
Well, this is all interesting, but what does it MEAN, this highly enigmatic and widely-debated statement in Hebrew Bible-what did God mean?
The verb beneath the translation is "hayah" which signifies presence-being there. The answer Moses receives is not, by any stretch of the imagination, a name. BUT, it's an assurance of his presence. It's an expression of authority, a confession of reality. But if you think about it, isn't that really what Moses WAS after?
When we ask a telemarketer, "Who's calling, please?" we don't want a name, we want to know why they are calling. The point is-God is, he IS. He is the eternal "I am." No matter how you translate it, the stress is on the presence of God-his "being" is a "being WITH." God is WITH us. This is not conceptual being, it is actual being. The point is-God cares for his people enough to make himself known, and to be with us.
Of the several times Moses tries to wiggle out of his mission, God answers him all but once with the same verb, in the same meaning: "I will be there with you." He's getting personal-God's peeling back another layer of the union. He's revealing more of himself. That's what he's telling Moses.
It's sometimes impossible to unravel fully mysteries of the faith, but we can learn from them as we try, and draw closer to God in the process. As the ever-present one, in this scene, is it possible that he's throwing pebbles at our window-that he wants to get to know us?
After God revealed himself to Moses, Moses was in the tension between the mystery and the pragmatic daily living-kind of like we are. He struggles to convince a frightened and insecure people in a strange place of the reality of God he himself knows but has not seen." THIS WAS RADICAL-to know the name of God. Just being in his presence meant flirting with death, but here is Moses, speaking, having God tell him his name! It blew minds.
The Exodus narrative sets the tone of a theme-that of God making himself known to both Israelites and foreigners. God graciously made known his true being as the One exists. The one who was, who is, and who will continue to be.
Moses got a burning bush. What about us? How do WE know God without seeing God?
Section II - Interlude We can't fast forward to us just yet-not without pausing the movie a little further forward, at a critical time about five hundred years later. God does something even MORE radical in his quest to know us and let us know him-God puts on flesh! God comes to hang out with some people in the person of Jesus. And guess what-it's because God once again, wants to know us. To be with us.
God's self-disclosure in Jesus is revealed the Gospels. And in John, the "God quality" of Jesus is raised from minor to major key, from lower case to capital letters, underline, exclamation points. In John, there's a Great Echo, or a flashback to the Great "I am."
As we meet Jesus, we get a magnifying glass to see God with.
In John 8:58 Jesus said, "Before Abraham was born, I AM." The Pharisees who heard this knew exactly what He meant. There wasn't any question in their minds because they picked up stones to stone Him to death, which was the penalty for claiming to be God. When Christ names Himself the "I AM," he's claiming identity with the God who spoke to Moses from the burning bush.
John is peppered with I Am's. They're sprinkled everywhere.
6:35 I am the bread of life. 8:12 I am the light of the world. (9:5 too) 10:7,9 I am the gate for the sheep, whoever enters me will be saved 10:11,14 I am the good shepherd. 11:25 I am the resurrection and the life. 14:6 I am the way, the truth, and the life. 15:1,5 I am the true vine, and my Father is the gardener. John 8:24 "If you do not believe that I am the one I claim to be, you will indeed die in your sins." John 8:28 "Then you will know that I am the one I claim to be, and that I do nothing on my own but speak just what the Father has taught me." I and the Father are one.
If John 8:58 wasn't enough, John continued to blow minds! THIS COULDN'T BE MORE RADICAL for the Jews. To them Abraham was the greatest figure in all religious history, and they considered themselves safe and secure in the favor of God simply because they were descendents of Abraham. Jesus was rocking their boat saying, "Before Abraham was, I am."
Even though Jesus was giving us a magnifying glass to see God, some of them couldn't see it. It was too radical for them to wrap their heads around.
But God continues to show himself to us. God put on flesh so we can know him-he's desperate to have us know him. In Jesus, God is. It's "I am" all over again.
Section III - What This Means Now Twice--the Great "I Am" is a relational God, a God who wants to know us. But, can WE know God without seeing God? Writers of the Bible lived in the Holy Land--where bushes burst into flame. Writers of the New Testament saw and ate with and touched Jesus.
God said, "I am what I am" to the Israelites in a language that they could understand Jesus said "I am God" to the Jews in a language that they could understand. Each time, some heard, some responded, some knew God. Some didn't. How do we draw near enough to God so that he reveals himself to us, and that we respond in our time and place?
In our culture, we yearn for visibility, tangibility. Remember the image of Jesus on a glass office building in 1999 in Florida? Or on the pancake in the Mexican village? And don't forget the long history of idolatry in the Old Testament. People, we, want to see and hear and feel and touch and smell and taste.
But we also have the desire for contact with the unseen. We humans search for clear-cut signs of God's presence, as if still yearning for the burning bush or an audible voice. So we want God, and we want him where and how we live. Let's talk about that.
Let's go back to Moses for a minute, and look at two ways we can know God in our language, in a way that makes sense to us.
1. We have to Stalk God In verse 3 it says that "Moses went deep into the wilderness near Sinai, the mountain of God...sees the bush in flames..."I must go over and see this."…he's checking this OUT!
"A living faith is nothing else than a steadfast pursuit of God," said Brother Lawrence. This means we seek him. We don't just talk about wanting to know God, we SEEK God.
read excerpt from Winnie the Pooh and Piglet go hunting and almost catch a woozle.
Stalking God means investigating him, setting out to find him. Stalking God does not mean first getting to know God, then doing his will. Stalking God means I get to know him BY doing his will. I enter into an active relationship, which means spending time with God, in his Word, caring about the people he cares about, and following his commands, learning with community along the way.
Thomas Merton says, "We do not see first, then act. We act, then we see." Annie Dillard agrees. In "Pilgrim at Tinker Creek," she talks about stalking muskrats to view them, to understand and get to know them...she spends hours, weeks, seasons of preparing, waiting, seeking, pretending she's a muskrat, thinking like a muskrat-THEN she sees one. "After all this time, I began to wonder whether the muskrat had been stalking me."
Is God stalking us, or are we stalking God-it's a little bit of both. It's kind of a mutual stalking. Remember--God's been chasing us for centuries. He's desperate to know you and have you know him more deeply. He's climbed up the tree and he's throwing pebbles at your window.
2. We also have to Talk to God Moses talks to God, ooh boy, does Moses talk to God, insecurities and all. When you think of prayer with God, do you think of the conversations Moses had with God?
After Moses has this great intimate name thing with God, what does Moses do? He chats about all kinds of reasons why God shouldn't choose him...isn't that classic-God, your will, your will, but oh, God, not me THERE, not like THAT. The dialogue is like this: "Am too, are not, am too, are not." It's like arguing with a four year old. Moses' objection God's response 3:11 inadequate, who am I? I will be with you 3:14 what is your name? tells him...I am 4:1 what if they don't believe me? bunch of signs...staff becomes a snake, etc. 4:10 I can't speak, really I can't I will help you speak and teach you what to say 4:13 please send someone else God gets mad, asks about Aaron, will tell them both what to say.
Moses is what you might call a reluctant liberator...he has an almost obsessive need to turn down what he's been asked to do. Moses refuses the commission five times, and five times God counters. In four of these cases, God just assures him that he will "be there."
Why do we think we have to abandon conversation with God in order to deal with the world? And why do we think we have to be anything other than ourselves?
Try to converse with God in little ways while you do your work; not in memorized prayer or previously formed thoughts. Reveal yourself purely and simply as the words come to you.
Brother Lawrence, in "The Practice of the Presence of God" (written over 300 years ago... kind of like spiritual disciplines exercises, compared to practicing a serve in tennis) wrote an instruction book to those who want to know God and feel His presence throughout each day. He learned to cultivate the presence of God whether he was doing chores or on his knees in prayer.
John Donne, in "Devotions," has some pretty open talks with God. Sometimes he taunts God, sometimes he grovels and pleads for forgiveness, sometimes he argues fiercely. But not once does Donne leave God out of the process. The presence of God shadows every thought, every sentence. (Note: it does not resolve the intellectual doubts)
What do you do when you want to get to know someone? You make time for each other. You talk to each other. Sometimes you drive across the Bay to have lunch. You let your guard down. After a while if you are around this person each day, you don't stop to think that you need to talk to your friend, you just do it as you go about your day.
In "Reaching for the Invisible God" Yancey talks about how to sustain a relationship with a being so different from any other, one imperceptible by the five sense... At one point, he suggests writing a letter to God.
If you were to write an open letter to God, what would you say?
On Thursday morning this week, you'll never believe what happened. Here I am steeped in a bunch of "I Am" books and thoughts, I get an email that in made me do a double take-it was from www.i.am. My first thought was that it was from God. But it's not. It was from a new email hosting service so you can have an email address that is kim@i.am. Their slogan--"Be yourself, not a dotcom!" Have you ever thought what you would say in a reply email to God?
Relating to an invisible God involves certain handicaps-we don't always have the sensory evidence in the present. So sometimes we have to look backward to remind ourselves of who it is we are relating to. Looking back in history, Moses saw an invisible God. Later, Jesus became our magnifying glass to see God. I bet you could even look back in your own life and see evidence of God--his fingerprints all over it.
Advent. Preparing for Christ. You want to see God? How much time are you spending in conversation with him? Reading his letters to us? Seeking him? In nature? Loving who he loves? (that's each other-us) He is desperate to know us, and to be known by us. He's been throwing pebbles on our window for a long time.
You want to see the unseen God? Stalk him Talk to him We get to approach God-just like Moses did. We get to talk to him, today, in ways that make sense to us, with our language. This is just as RADICAL as it was for Moses and the apostles. This is holy ground stuff!
You want to see God? What's the one thing you want to do differently to get to know God or to let him into your life? We're talking about The I Am God. The God that is-the God WITH us.
Prayer: Father, we thank you that you are Emmanuel, that you are God with us. (Isaiah 8:10) Thank you for holiness and awe and mercy and grace that we see in you. Thank you for pursuing us, and revealing yourself to us. Thank you that through Christ, we may approach you with freedom and confidence-according to your eternal purpose. (Ephesians 3:11-12 ) For all that has been, thanks. For all that shall be, thanks. For all that is, and for you who ARE, you who are always there, thank you that we can know you.